April 30th, 2009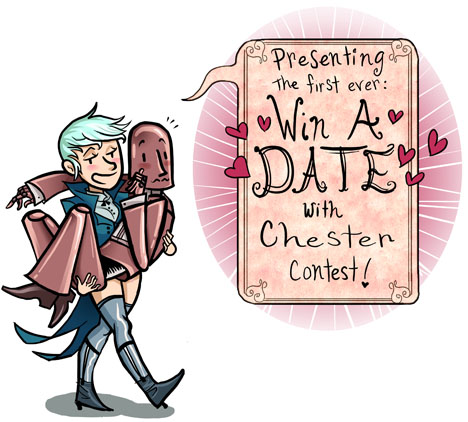 Announcing The WIN A DATE WITH CHESTER

contest

!

Win fabulous prizes! Receive tremendous boners!
Celebrate Chester's 100th page!!!
I have been doing Chester (heh) for a while now and I am coming up on the 100th page!!  So I am having a contest to celebrate!
The contest requirements:
Send a drawing, comic, painting or what-have-you of some feature you would like to see added to Chester 5000′s repertoire of sexy tools. Here's an example of one of them:
http://jessfink.com/Chester5000XYV/?p=63
This should not be just a close up of the feature but a "demonstration" of it's use. Extra points for including Pricilla!

Entries do not have to be black and white, in fact go fucking nuts!

The fabulous prizes:

3rd place winner:
Both Chester mini comics

2nd place winner:
Chester Paper doll and both mini comics

1st prize winner:
A fancy print of a Chester 5000 page, a Chester paper doll and both books!

GRAND PRIZE:
An inked drawing of you and YOUR FAVORITE Chester character gettin SAUCY. Do you have a thing for Pricilla? Does the Scientist turn your crank?
Maybe Isabell is the lady for you? YOUR WISH IS MY COMMAND.
You also get a Chester paper doll and both books!!!!
Deadline for entries is the day I reach my 100th comic, May 21st!
You can post your entry on your blog or wherever you like but please don't forget to email it to me here,
JessFink at JessFink.com !